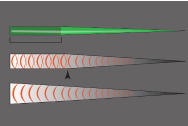 FOCUSED PULSE ● EQUIRADIUS BUTT
At a glance you'll notice the "big-butt" design of POINT Blank. There are only two design options for butt section power – a thinner diameter with thick walls or a thinner wall and larger diameter. When we began to examine the difference it became obvious that the "echo chamber" of a larger diameter broadcasted signals a little stronger than a narrower tube.
Then we noticed something else. When we kept the diameter of the last 14 or so inches of the blank the same*, we created a "static" in the vibrations speeding down the carbon fibers from the tip. Think of the what happens when you speak (send vibrations) through a megaphone. The sound speeds through the cone and disperses into space. It's amplified, but not within the confines of the cone – it's just sent through the cone. A tapered rod blank is basically a long, skinny megaphone with vibrations racing through and crashing into a very absorbent cork butt cap.
Now, think about singing in the shower.
Sound (vibration) reflects in all directions, giving your voice a full, strong, resonant tone that you're sure everyone is enjoying. An Equiradius Butt interrupts the megaphone effect and makes vibrations bounce around the echo chamber inside the blank. Like your shower. Better vibration equals better sensitivity. And we Focus the Pulse in the reel seat.
One more thing. Installing handles and reel seats on a consistent diameter blank is way easier than matching a taper with a drawer full of reamers!
* Mandrels used to make blanks cannot have absolute "zero" taper. Like any molding processes, there must a minimum "draft" to pull the part from the mold. POINT Blanks will taper a very small amount that varies from model to model. Most will show less than .5 mm taper over the first 12-14 inches.
Adding up little things is, in the end, what quality is all about.